- Zodwa Mqadi, Founder of Agape
Orphanage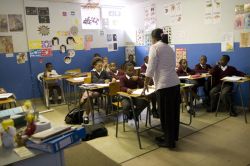 How it works
The RISE Foundation has been operating an education programme and supporting over 50 disadvantaged children in South Africa since 2006. Through education, our programme provides these children with the opportunity of a sustainable future, empowering them to help themselves and lead independent lives. Our education programme pays for the children to attend excellent schools that have been hand picked for each child. We also hire a tutor to come for two hours every day after school to help the children with their homework. The tutor not only provides the children with academic help but also some of the encouragement and support that they would have normally received from their parents. This holistic approach is proving very successful and the children's grades have improved significantly.
The Fred Wolffing Estate
The Rise Foundation thanks the estate of the late Fred Wolffing, for their generous contribution to our education programme. Fred Wolffing, a refugee whose family came to England to escape persecution during World War II, died in 2006, leaving his estate to charities that fit his passions.
It is with the support of individuals like Fred Wolffing that The Rise Foundation can continue to support the education of disadvantaged children in South Africa and give them a better future. We are grateful to the Wolffing estate for choosing to support The Rise Foundation.

Slindile
After graduating high school Slindile gave an impressive audition at the University of Kwazulu Natal which allowed her to spend 2009 on a Foundation Vocal Course at the university's School of Music. During the subsequent year she studied full time, receiving professional tutelage in vocal performance, musical theory and piano. At the same time she completed further courses in English and Life Skills. She passed the year with flying colours and emerged with such a profound growth in maturity and self confidence that we were truly inspired. After her success at the University of Kwazulu Natal, Slindile is currently completing a two-year Hospitality programme at Elangeni college, which will give her the qualifications and skills needed to succeed in one of South Africa's most reliable and booming industries. See Slindile with her most recent certificate here.
Siyabonga
Along with Slindile, Siyabonga was one of our first high school graduates. This alone is an incredible feat as the majority of children living in poverty in South Africa never manage to graduate from high school. Siyabonga spent hours with the tutor everyday after school studying and preparing for his final year exams. His hard work paid off and he became the first member of his family to achieve a high school degree. With this distinction he was able to quickly acquire a full time job as a milkman. Siya loves his newfound independence and job and is also currently studying to obtain his drivers license.
Nqobile
After only a few years at Forest View Primary, Nqobile's wonderful personality made a large impact. We were so proud when during our first end of year meeting with her school principal, she was described as a very popular and well liked student whom her teachers viewed as a born leader. She graduated in the top 5% of her class at Forest View and is now attending Hillcrest High, one of the country's top 50 schools! In recent reports, Nqobile is excelling in math and art & design. She was featured over the summer of 2010 in an article about the success of the We Are Together Education Programme in Metro International, which reached over half of their 18 markets. Check out the article here.
Khumbulani
The We Are Together Education Programme supports many different ways for the children of Agape to learn practical and scholarly skills to achieve their goals and improve the conditions in their lives and the lives of their families. Khumbulani was enrolled and completed a driver's course at Dee's Driver Training Centre over the summer of 2010. Since graduating, Khumbulani has been busy interviewing for jobs off the success of his course. Check Khumbulani out behind the wheel here.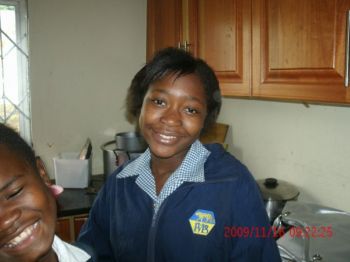 These are the words of Nelson Mandela. Everyone knows the importance of educating children but not everyone does what they can to make sure disadvantaged children have access to education. You can take that simple step and sponsor a child for £5 a week, make a one time donation or hold a fundraiser and help us cover school fees, uniforms, stationary, tutors and other educational costs for over 50 children!
A good quality education has the power to challenge the cycle of poverty and disease that is particularly devastating in countries such as South Africa. In the province of Kwazulu Natal, where the Agape children live, 1 in 3 people are HIV positive. Thus, in order for these children to have a chance in life and to develop the potential that we see so clearly in them, they desperately need access to good quality education.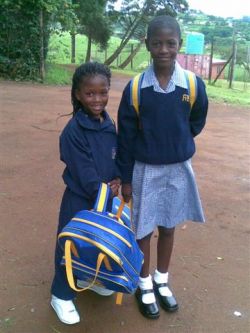 Outdoor Adventure Training Programme
As a part of a quality education and a good fit between learner and institution, the RISE Foundation strives to ensure opportunities outside of the classroom under the leadership of the learners' schools. To this end, many students have had he opportunity to attend Outdoor Adventure Training Programmes (OATs) through the Wilderness Leadership Training Organization which are available for 5 to 13 year olds. At least once per term at some of the schools, students attend the OATs for an entire day and from grade 4 onwards this includes an overnight trip as well. Various challenges are put to them which develop group work, initiative, problem solving and survival skills. The schools also select prefects at Grade 7 level based on some of the results of their leadership skills which are developed on the OAT Programme.
The Wilderness Leadership Training organization who offers this programme and supplies the tutors, has many years of experience in this field. As a veteran of the old Special Forces in the Zimbabwe conflict many years ago, the founder of the Organization, Mr Dave Padbury, has turned his survival skills and training of soldiers into a positive training of youngsters who don't get the opportunity to experience the bush and nature and learn from it. Our learners are blessed to have this opportunity outside the classroom