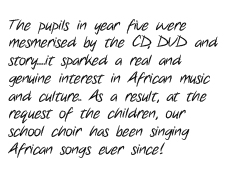 Rachel Thorpe, Director of Music, Edgbaston,
Birmingham.
School Choirs
Would you like to help your students learn the songs from We Are Together? By joining the We Are Together School Choirs scheme you will give your students the chance to experience the importance and power of music, the tools to really understand the HIV and AIDS pandemic and the opportunity to help disadvantaged students in South Africa access a good education.
Download the School Choirs Guide to find out how to register and for ideas on how to raise funds, engage your students and discuss issues which come up in the documentary. After registering you will receive a free copy of the School Choirs Song Book which includes 4 songs from We Are Together which are suitable for young choirs, and a free copy of the We Are Together DVD.